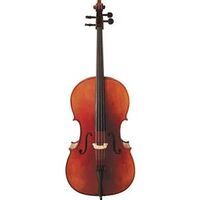 The cello (pronounced /ˈtʃɛloʊ/ CHEL-oh; plural cellos or celli) is a bowed string instrument. The word derives from the Italian violoncello. A person who plays a cello is called a cellist. The cello is used as a solo instrument, in chamber music, and as a member of the string section of an orchestra. It is the second largest bowed string instrument in the modern symphony orchestra, the double bass being the largest.
Orchestral solos
Edit
Rossini: Overture to William Tell
Ad blocker interference detected!
Wikia is a free-to-use site that makes money from advertising. We have a modified experience for viewers using ad blockers

Wikia is not accessible if you've made further modifications. Remove the custom ad blocker rule(s) and the page will load as expected.